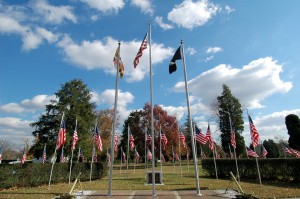 Charlotte Hall Veterans Home is committed to meeting the special residential and long term care needs of Maryland resident veterans and their eligible spouses.  The Home offers rehabilitation, skilled nursing care, two secure units, and for those requiring less assistance, assisted living in a tranquil, beautiful setting within easy reach of the nation's capital.   Opened in 1985, this 454-bed facility provides a continuum of care from the 186-bed Assisted Living unit to a higher level of care in the 268-bed Nursing Home.
A number of social and fitness activities are offered at Charlotte Hall Veterans Home.  Opportunities exist to participate in both in house and activities outside of the Home.  A devoted Volunteer Program provides many additional services and entertainment events for Residents.  A barber/beauty shop gives residents a feeling of being pampered.  Registered dietitians work closely with residents and their families to assure proper diet.  Meals, served in two spacious dining rooms, feature excellent selections designed to meet individuals needs.  Computers are provided throughout the facility for resident use.  Residents have access to the internet and training is provided for those who have no experience and desire to develop computer skills.
The cost to the resident is based upon the level of care they require.  Included in the daily rate: room and board, medications, transportation to and from the U.S. VA Medical Center in Washington D.C., activities, and telephone/internet service
Basic eligibility requirements for admission:
• Discharge under honorable conditions from the U.S. Military (non veteran spouses of qualified veterans are eligible for admission)  
•Maryland resident
•Minimum age 62, or unable to work due to disability recognized by the U.S. VA or the Social Security Administration 
Charlotte Hall Veterans Home Admissions Contact Information:
Lisa Murphy
301-884-8171, ext.409
Email: admissions@charhall.org
Sharon M. Mattia, Director
29449 Charlotte Hall Road
Charlotte Hall, MD 20622
301-884-8171
For more information visit the Charlotte Hall Veterans Home website.
---