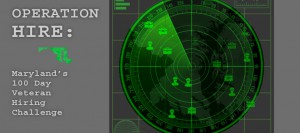 Review of Operation Hire: Maryland's 100 Day Veteran Hiring Challenge
Operation Hire began June 1 and continued through September 9.  The campaign challenged Maryland employers to incorporate or expand upon established veteran hiring initiatives. Operation Hire was an initiative in alignment with the O'Malley-Brown Administrations GOAL of full employment of Maryland veterans by the end of calendar year 2015.  The final participant tally totalled 184 State Agencies, local jurisdictions and private sector businesses.  Throughout the campaign participants were asked to share veteran hires and this data is currently being collected and reviewed.  
Participants in Operation Hire, as well as others in the business community are encouraged to continue sharing open job announcements with the MDVA as well as with the Department of Labor, Licensing, and Regulation via the Maryland Workforce Exchange and Veterans Employment Program Staff.  The Employer Tool Kit will remain on the MDVA website and employers are encouraged to use the resources contained therein to propel their veteran hiring initiatives in to the future.
A warm thank you is extended to all of the participants in Operation Hire and for your commitment to supporting our Maryland veterans and families.
To share job announcements or to learn more about how to recruit, onboard, and support veterans in the workplace, the following resources are available to the business community:
Employer Tool Kit: visit this kit for human resources information.
Maryland Workforce Exchange: visit the exchange to share job announcements.
One Stop Career Center: contact your Local Veterans Employment Representative for veteran recruitment support.
Maryland National Guard Civilian Employment Assistance: contact this Office to share job announcements with our National Guard service members.
MDVA Jobs for Maryland Veterans Email: contact the MDVA at mdveteransinfo@maryland.gov to share job announcements.
U.S. Department of Veterans Affairs eBenefits website: visit this site to enroll and share job announcements.
For a listing and map of employer participants and their locations/contact information, visit the Operation Hire Employer Map. 

For more information on Operation Hire contact: Dana Hendrickson Director, Outreach and Advocacy Maryland Department of Veterans Affairs dana.hendrickson@maryland.gov  
---