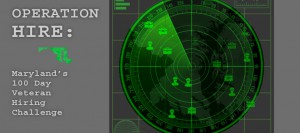 What is Operation Hire?
Maryland is committed to supporting veteran employment.  Starting June 1, and continuing for 100 days, Maryland employers are challenged to incorporate or expand upon established veteran hiring initiatives.  At the conclusion of the Challenge, employers will be recognized for their participation.
The MDVA encourages businesses and federal, state, and local agencies to join the campaign to hire veterans.  
For official rules for participation visit Operation Hire Rules.
I AM AN EMPLOYER: How Can My Organization Participate?
Employers with a federal tax identification number and who hire Maryland veterans are eligible to participate. 
Complete the online registration form.  There is no deadline for registration. 
Visit the Employer Tool Kit.
Register on the Maryland Workforce Exchange. 
Contact your local One Stop Career Center to share job announcements.
Connect with the Maryland National Guard Civilian Employment Assistance Office to share job announcements.
Contact the MDVA at mdveteransinfo@maryland.gov to share job announcements.
Visit the U.S. Department of Veterans Affairs eBenefits website.  Enroll and share job announcements on the new employment center.
When contacted by the MDVA, share hiring data via the Veteran Hiring Tracking Form.  Tracking forms will be sent to employers on a scheduled basis and should only take a few minutes to complete.  The data collected will track hires and assess success in accessing employer resources.
Continue to refer back to the MDVA Veteran Employer Toolkit for ongoing support and resources. 
 I AM A VETERAN: How can I learn about veteran friendly jobs in Maryland?
For a listing and map of employer participants and their locations/contact information, visit the Operation Hire Employer Map. 

For more information contact: Dana Hendrickson Director, Outreach and Advocacy Maryland Department of Veterans Affairs dana.hendrickson@maryland.gov 410-260-3842
---