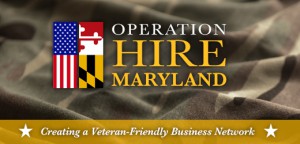 June 4, 2015, 8:30 to 3:00
Community College of Baltimore County- Catonsville
Event Description:
Who should attend: Small business owners, recruiters for large corporations, human resources managers for public sector government agencies
Join fellow human resources professionals to learn best practices for creating a proven veteran friendly atmosphere within your department or agency. Last fall, participants in Operation Hire spoke, and we listened.  You are looking for more resources and education on:
recruitment
interviewing
resume review
onboarding and…
supporting your veteran employees
These strategies and more will be covered during this event.
You'll also learn about Operation Hire Maryland: Creating a Veteran Friendly Business Network.
Learn how to:
participate in Operation Hire Maryland
join a business network of fellow professionals
pledge support for our veterans
More information on registering to join Operation Hire Maryland coming soon!
June 8: Operation Hire Participant Registration Opens
July 1: Operation Hire Maryland Kick Off
In the meantime, to share job announcements or to learn more about how to recruit, onboard, and support veterans in the workplace, the following resources are available to the business community:
Employer Tool Kit: visit this kit for human resources information.
Maryland Workforce Exchange: visit the exchange to share job announcements.
One Stop Career Center: contact your Local Veterans Employment Representative for veteran recruitment support.
Maryland National Guard Civilian Employment Assistance: contact this Office to share job announcements with our National Guard service members.
MDVA Jobs for Maryland Veterans Email: contact the MDVA at mdveteransinfo@maryland.gov to share job announcements.
U.S. Department of Veterans Affairs eBenefits website: visit this site to enroll and share job announcements.
Operation Hire: Maryland's 100 Day Veteran Hiring Challenge (2014)
Operation Hire began in 2014 and ran from June 1 through September 9.  The campaign challenged Maryland employers to incorporate or expand upon established veteran hiring initiatives. The final participant tally totalled 184 State Agencies, local jurisdictions and private sector businesses.  Throughout the campaign participants were asked to share veteran hires.  Two employers were to receive special recognition as a result of their hiring efforts during Operation Hire.  The recognition categories and employers are:
The employer participant with the most hires (raw count): Lockheed Martin Corporation, 60 hires
The employer participant with the largest percentage of hires by workforce size: Jiffy Lube-Pikesville, 9 hires which brought its' workforce to 50% veterans
The State Agency which had the largest number of reported veteran hires was the Department of Public Safety and Correctional Services with 25 reported hires.

An after action review was held in October 2014 with participation from State Agencies, community partners, and employer participants.

A warm thank you is extended to all of the participants during Operation Hire's inaugural year and for your commitment to supporting our Maryland veterans and families.

For a listing and map of 2014 employer participants and their locations/contact information, visit the Operation Hire Employer Map.

For more information on Operation Hire contact: Dana Hendrickson Director, Outreach and Advocacy Maryland Department of Veterans Affairs dana.hendrickson@maryland.gov  
---