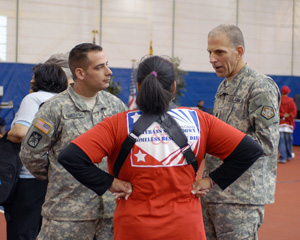 The Outreach & Advocacy Program's mission is to develop innovative ways to seek out and inform Maryland's veterans about benefits and services that are available from federal, state, and local organizations, as well as solicit feedback from veterans regarding their requests and needs for additional services.
To accomplish its mission the Outreach & Advocacy Program works closely with multiple local, state and federal agencies and non-profit organizations to coordinate efforts to locate and inform Maryland's veterans as well as to expand benefits and services available to Maryland veterans.
The Program is also responsible for:
The Department's electronic newsletter, a bi-weekly publication comprised of notable veteran and military related events across Maryland
The Department's website, veterans.maryland.gov
Welcome Home Maryland Veterans mailings, an informational packet sent to all veterans returning to Maryland
The Department's social media presence
Communications and public relations
In addition, the Outreach and Advocacy Program provides briefings on MDVA programs and benefits available to Maryland Veterans and their families.  The Program also staffs tables at various community events to provide education and outreach materials pertaining to Maryland benefits and MDVA programs.
If your organization or group is interested in receiving a briefing or having a table staffed at your event, please complete the Outreach Event Request Form.
Outreach and Advocacy Program Contact Information
Dana Burl, Director
410-260-3842
dana.burl@maryland.gov
Denise Nooe, Deputy Director
410-260-3840
denise.nooe@maryland.gov
---