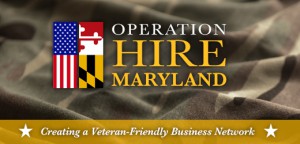 Operation Hire Maryland,  an initiative to provide employers with veteran recruitment and retention resources, was launched in 2015. Through the collaboration and efforts of Operation Hire Maryland participants, a network was established to share best practices and proven methods for veteran recruitment, hiring, on boarding, and retention in the civilian work place.  During the course of 2015-2016 training and networking events were held across the State.  Please see archived meeting slide decks below for resource information.
Archived networking meeting slide decks:
October 27, 2015
Cambridge, Maryland
Slide Deck
January 28, 2016
Owings Mills, Maryland
Slide Deck
March 2, 2016
Columbia, Maryland
Slide Deck
September 28, 2016
Cumberland, Maryland
Slide Deck
CURRENT EMPLOYER RESOURCES:
Anne Arundel Workforce Development Center
Military Corps Career Connect 
Military Corps Career Connect, better known as C3, is Maryland-wide initiative focused on building career success for transitioning active duty service members, active duty spouses, and recently separated veterans. C3 is funded by a $4.2 million US Department of Labor National Dislocated Workers Grant awarded to Anne Arundel Workforce Development Corporation.  Sub-grantees include Prince George's County Economic Development Corporation, Tri-County Council for Southern Maryland, Susquehanna Workforce Network, and the US Chamber of Commerce Foundation.
To learn more about how C3 can support your recruitment needs, please contact Art Reeside, Business Development Specialist at areeside@aawdc.org
To learn more about C3 visit their website at: Military Corps Career Connect